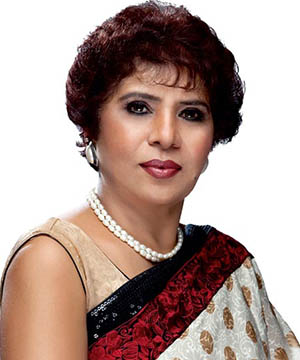 Founder & Director, Bharti Taneja's Alps Beauty Group
An entrepreneur, a leader, a visionary, a veteran beauty expert and a teacher, Dr. Bharti Taneja is all rolled into one. The founder and director of Bharti Taneja's Alps Beauty Group is a name to reckon with in the world of skincare and makeup.
Dr. Bharti Taneja started her career in 1988 from a one room parlor and a small amount of two thousand rupees. Guided by her instincts and armed with her passion for beauty, she built an empire from almost nothing. It's been three decades of success and supremacy in the beauty industry but Dr. Bharti Taneja works with the same zeal and passion even today.
With a vision to make Indian beauty industry one of the most advanced and aspired in the world, she relentlessly worked on bringing new technology and techniques. She fabulously infused modern science in the age-old beauty traditions. Dr. Bharti Taneja fabulously infused dermatology in age-old beauty treatments and gave an edge to Indian beauty salons. "The beauty clinics' of Dr. Bharti Taneja became a sensation overnight.
Teaching and guiding the next generation, however, remains close to Dr. Bharti Taneja's heart. She founded Alps Beauty Academy not just to fill the void of skilled professionals in the industry but also to give young girls & boys a lucrative career. Today her students are making her proud by working for world's top brands all over the world.
A Mogul with a magnanimous heart, Dr. Bharti Taneja is committed to 'giving back' to the society through various charitable work. She wants to reach out to more and more girls and give them an opportunity to follow their passion and stand on their feet.
In addition to running her company and philanthropic work, Dr. Bharti Taneja regularly shares her expertise on television, in magazines and newspapers, and online. She is associated with various beauty, health & wellness magazines in the country. A sought after beauty expert, Dr. Bharti Taneja connects with diverse audiences and is appearing on many TV shows. She has also been an eminent jury member in several beauty pageants and contests.