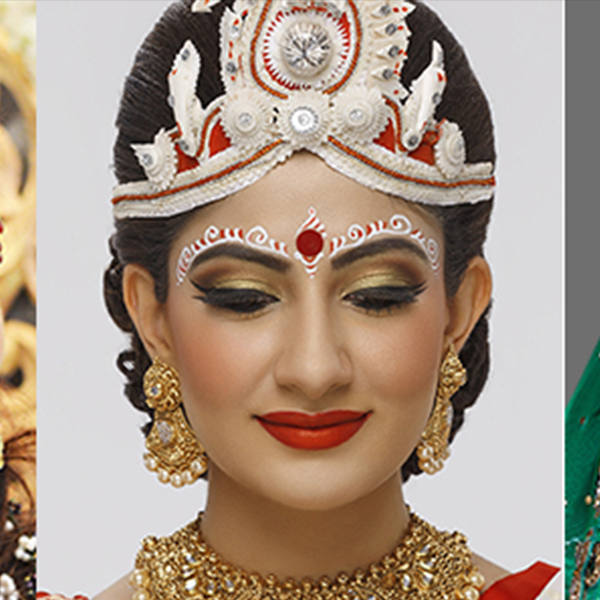 Bridal Makeup Artist
Bridal Makeup
Hello, Happy Bride-to-be,
WHEN SHOULD I BOOK MY HAIR & MAKEUP ARTIST? You should definitely do it 4 to 6 months of your wedding date. Makeup & hair is a vital part of wedding planning. It is important not only to ensure you have your DREAM BRIDAL LOOK but also that your makeup & hair expert understand your vision and expectations. Booking it at the last moment can lead to confusion and not-so-satisfactory results. Also, a good makeup expert will always advise you to book for a pre-bridal beauty treatment as per your skin type and problems (acne, pigmentation, tanning, etc.). This will get your skin in top condition for the big day.
SHOULD I GO FOR A MAKEUP & HAIR TRIAL?
Of course! A consultation or meeting with your makeup & hair expert is a must for every bride-to-be. It helps you both understand each other better. Book for the trial at the studio as it has proper lights, which will help you have a closer look at your BRIDAL LOOK and understand it better. Tell her about your wedding lehenga (colour/style), jewelry, and hair accessories. We suggest you take some makeup images that you like along with you. These images could be simple BRIDAL INSPIRATIONS or CELEBRITY BRIDAL LOOKS. It always helps the expert understand your BRIDAL VISION. The makeup artist can assess these images and tell how that can be translated to your face. Post-trial, take a lot of pictures from your phone to see how you look and if it matches your imagination.
WHAT TYPE OF BRIDAL MAKEUP SHOULD I CHOOSE?
At BHARTI TANEJA'S ALPS BEAUTY GROUP, we offer the best and latest in bridal makeup. All these Bridal makeup in Delhi, Gurgaon techniques ensure smooth, flawless skin texture. From covering dark spots, dark circles and acne to giving you chiseled features; these makeup techniques will completely transform your face incredibly. Moreover, in this day & age of high-definition Wedding videos & Photography, where the camera catches even the minutest detail of your bridal look, these advanced makeup techniques give you high definition, camera-friendly finish. This means, you look absolutely fantastic in your Wedding videos & album. Types of Bridal makeup in Vikaspuri, West Delhi that we offer are:
Airbrush Make-up
Airbrush is a lightweight makeup applied through an air gun machine that spreads small particles for a flawless finish. The even layer of makeup gives a completely matte finish to your look. Wondering why it is perfect for brides? Many times, very light sponge or brush marks can be seen in the high definition pictures of many brides clicked during the wedding. Airbrush eliminates this possibility and gives you an unblemished, gleaming skin.
HD Make-up
The uneven skin texture with several other flaws can be concealed with the help of high-definition makeup formulas. The HD Bridal makeup in Lajpat Nagar, South Delhi formulas are designed to be sheer which helps skin to look naturally beautiful. It superbly uplifts the texture of the skin and makes it look spotless & smooth in the pictures. Unlike heavy pancake makeup, it does not look thick or too made-up. Instead, it gives your face a natural radiance.
Silicone Make-up
Silicone is perfect for the brides who would like to go for a soft, minimalistic makeup look. It hides pores, blemishes, marks, spots, and fine lines and allows makeup to glide on smoothly. The result is a healthy-looking skin that glows from within. It makes the bride look fresh and fabulous!
SHOULD I BOOK MY PRE-BRIDAL PACKAGE ALONG WITH MY BRIDAL MAKEUP?
It is better if you book both at once. This is cost-effective and time-saving. It also saves you from the unnecessary stress of coordinating with two different experts located at two different places. BHARTI TANEJA'S ALPS BEAUTY GROUP offers all the pre-bridal & bridal services under one roof. With one appointment, you can consult a makeup & hair expert as well as a skin doctor at one place. Book your pre-bridal package 6 to 9 months before your wedding day. This will helps our skin doctors customize a skincare treatment as per your skin type and problems (acne, dark spots, pigmentation, tanning, etc.). In case, you are thinking about more advanced treatments like Permanent Hair Removal, Permanent makeup, Chemical Peels, Fillers, and Botox, it is advisable to go for these at least 6-12 months before your wedding day. So the early you start, the better it is for your skin.
WHAT DO I GET A IN A PRE- BRIDAL PACKAGE?
We offer head-to-toe beauty & hair services that will get your hair & skin in top condition for the Big Day. The package can be customized as per your needs and pocket. It includes services like – full-body wax, body polishing, facials, hair spa, hair coloring, body massage, and pedicure/manicure. BHARTI TANEJA'S ALPS BEAUTY GROUP is the only beauty clinic in the country that offers traditional as well as most advanced treatments like Permanent Hair Removal, Permanent makeup, Chemical Peels, Fillers, and Botox. We also offer exclusive services such as mehendi design, nail extension, and nail art.
WHAT IS THE PRICE OF PRE-BRIDAL PACKAGE?
The packages are from Rs 10,000 onwards. However, these can always be customized as per your skin's requirements after a consultation with a skin doctor.
ARE THERE ANY PRODUCTS THAT I CAN BUY TO MAINTAIN MY BRIDAL GLOW?
A new bride is always in the spotlight. So you must take extra care of your skin to maintain that unmistakable bridal glow. This apart, a good makeup kit is a must have for every bride to be. Since Honeymoon is getting as extravagant as the wedding celebrations, there are chances that you will be flying to exotic locations in India or abroad, and sharing the pictures of your romantic escape on Facebook & Instagram. The honeymoon look of the new bride has to be prettier, sexier and absolutely glamorous. Before you fly off, we recommend the following products from Bharti Taneja's eponymous brand, which you can easily buy online, or offline from any of our beauty clinics.
SKINCARE
Cleansing Milk
Astringent
Toner
Ultra Guard
Honey Apple Face Wash
Moisturizer
AHA Cream
Collagen Serum
Elder Flower Scrub
Glow Pack
Bridal Lotion
Makeup Remover
Hair Tonic
Cleansing Wipes
MAKEUP KIT
Face Primer
Eye Primer
Two Way Cake
Coloured Liner
Black Liner
Mascara
Eye Shadow Pigment
Brush Kit
Highlighter palate
Blusher Palate
Lipstick
Lip Liner
Lip Gloss
Fragrance

Minimalistic elegance was the theme of my wedding and I had a little tough time to find a makeup expert who would understand it. Thankfully, I got to meet the exceptionally talented team of Alps' makeup experts and they understood me in no time. My bridal look was every bit of what I had always dreamt of.

Anjila
Since the age of 8, I was very clear that I would get married like a Queen. So when the day finally came, we chose Udaipur as our wedding destination. From my bridal ensemble to jewellery, everything had a royal feel. And like a cherry on the cake, my elegant bridal makeup made my dream come true.  Thank you Alps, you are the best!

Nidhi
The makeup brigade of Alps is so professional and talented that it takes the load off your mind. I was a little confused and worried about my wedding look. But one consultation session with the team of Alps, blew all the confusions out of the window. They listen, understand and give excellent suggestions. You will definitely find your wedding look here.

Rekha
From pre-bridal beauty treatments to makeup, I got everything done from Alps. I had seen their work before. A lot of my friends and cousins got their bridal makeup done from Alps. So I was pretty clear about this part of my wedding preparation. They customized the look as per my needs and desire. It was perfect. My wedding album looks perfect.

Jaya